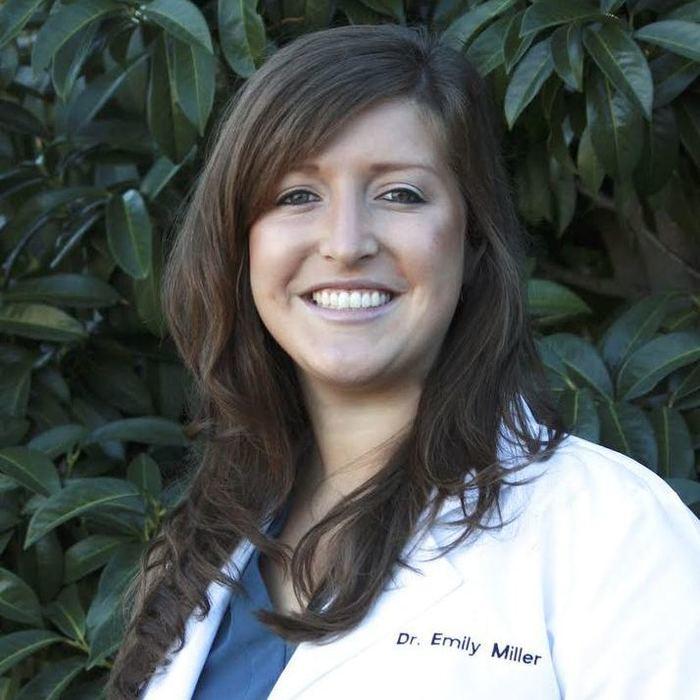 Dr. Emily Miller
Veterinarian
Dr. Charles Miller is overjoyed to welcome his daughter, Dr. Emily Miller, as an associate veterinarian! After receiving her Bachelor's degree in Biology from UC Davis in 2009, Dr. Emily Miller attended the U.C. Davis School of Veterinary Medicine where she graduated in June of 2013. In order to distinguish the two Dr. Millers, Dr. Emily Miller will be known as Dr. Em.
Dr. Em enjoys all aspects of general medicine and is excited to meet our clients and get to know all members of their families. Dr. Em has a wide range of special interests in veterinary medicine including behavior, nutrition, radiology and surgery. She is eager to use our new ultrasound and digital dental x-ray machine to apply her advanced training with these technologies. As a recent graduate, Dr. Em enhances our practice by bringing up-to-date methods and recently developed medical standards from her studies at UC Davis. Dr. Em values building lasting relationships with clients and their pets. Clients have already begun to appreciate her warm, welcoming demeanor and her excitement for the profession.
Dr. Em has a feisty little Shih Tzu named Oscar, who is a constant source of entertainment and joy. Outside of work Dr. Em is very active enjoying photography, beach activities, water/snow skiing, hiking and scuba diving.
Dr. Em is a member of the California Veterinary Medical Association, the American Veterinary Medical Association and the Monterey Bay Veterinary Medical Association.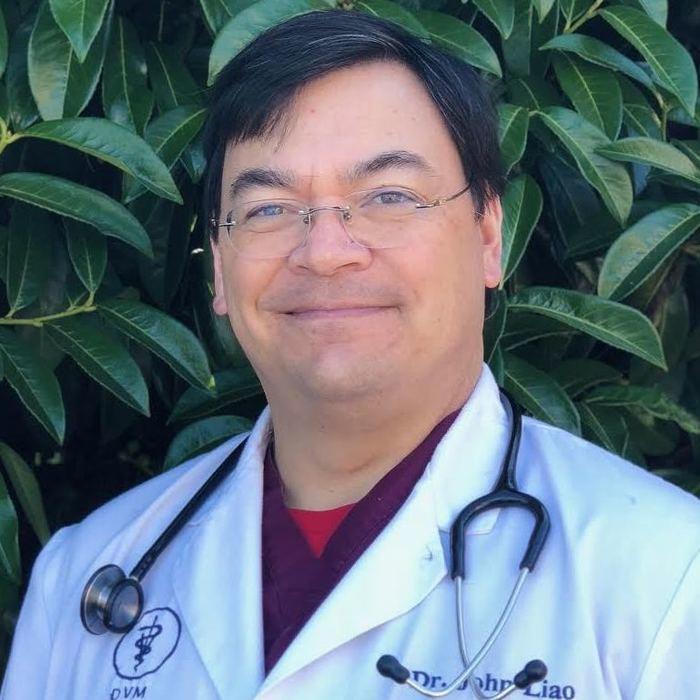 Dr. John Liao
Veterinarian
We are excited to welcome the newest doctor to our veterinary team, Dr. John Liao! After being in business for almost 30 years and a practicing veterinarian for over 20 years, and working on both sides of the Hill, Dr. Liao is proud to join the SVVC team! Dr. Liao is excited to work a little closer to home, after having most recently working in Watsonville. Although Dr. Liao grew up on the East Coast, Dr. Liao has lived in Santa Cruz since 1982. His avocation before entering the veterinary field was marine biology earning both a B.A. and M.S. from UC Santa Cruz. He has been lucky enough to have been both a marine mammal trainer and research physiologist before being awarded a Doctorate in Veterinary Medicine from UC Davis. He loves surgery and looks forward to helping the pets and clients at SVVC.
Although he no longer races or build race cars, he still loves working on cars and has a passion for Mustangs. He lives locally and has a 10 minute commute from the house that he shares with his previously stray cat, Borris. He is currently dog-less, but appreciates being able to get his dog fix at work while waiting for the right, next dog to come into his life.
Dr. Liao is currently a member of the California Veterinary Medical Association, the American Veterinary Medical Association and the Monterey Bay Area Veterinarian Medical Association.